You've probably heard of the Blessed Father Junípero Serra, his upcoming canonization, and the California Missions. In case you haven't, here's a super quick summary.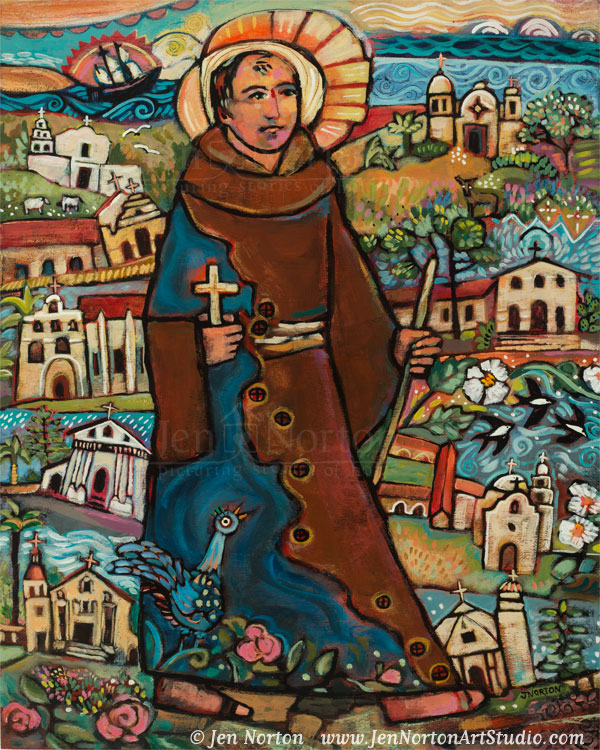 Father Junípero Serra was a Spanish Missionary in the 1700s that founded the first nine California Missions, including our beloved one in Santa Clara. Pope Francis will be canonizing him on September 23rd in Washington DC.
Now, what's all the controversy about? What lead people to wanting his statue removed from the U.S. Capitol and disagreeing with his canonization? Misinformation. You see, the people that tend to dislike Father Serra usually associate him with Spanish colonization, mistreatment of Indians, and their decimation. Let's look at this more carefully before making rash assumptions.
Spanish Colonization
In regards to Spanish colonization, we have to learn how to make the distinction between the colonizers and the missionaries. Yes, they often worked together but there is still a clear difference between them, especially when we're talking about Father Serra. It comes as an instant reaction for people to assume that the Spanish colonizers and missionaries came to the Americas to shove ideas down the native's throats in order to banish their own culture. Let me learn you a thing: Father Serra, along with other missionaries, learned the language of the natives and encouraged them to continue with their culture and identity. Blessed Father Serra lived to serve the Indians, not the other way around. He wanted to spread the love of God and the sacraments to all his peoples, not just the most privileged. So much was his desire to do this that he walked from Mexico City to the U.S. to found the missions… while having leg cancer. El Camino Real? Yup, he walked that. And let's not forget to mention that he "pressed for a system of law to protect California's Native Americans against the abuses of Spanish soldiers," which brings me to my next point…
Mistreatment of Indians
Some press against the fact that he used corporal punishments against the Indians. Again, this is because people tend to blob together Spanish colonizers with the missionaries. According to experts "there is no documentation that Serra himself abused any Native American."
Native American Decimation
The Native American decimation happened after 1850, and Father Serra died in 1784… soooo why is this even a thing?
This is not to say that Blessed Father Junípero Serra was perfect and that's why he should be canonized. If you have any knowledge on the saints, you'll know that none of them were perfect, and many of them were far from it. St. Paul persecuted Christians, St. Ignatius was a womanizer, and the list goes on. The definition of a saint is not "someone that always was impeccably holy" but rather a human who goes to Heaven. That means that they had sins and faults, but they ultimately walked in the steps of Christ. Now, I'm not saying that their mistakes should be justified (though it's also important to look at historical context), but I think they're there for more of an inspiration. The saints' mistakes help us see that they were regular people just like us, and that if they overcame them and went to Heaven so can we. In order to be canonized there need to be two legit miracles attributed to their intercession, where years of studies and yes, even science take place, to prove that they're really in Heaven. There are saints who don't receive their title and they're just as saintly as the other ones that do, but I really like how canonization allows for them to be known so that we can have a prayer buddy in Heaven :) .
I didn't live in the times of Father Serra, so I'll never be able to say that I'm an eyewitness and that he is in fact completely guilt-free of what many people accuse him of. However, I am a living eyewitness of what occurs today at one of the Missions he established—Misión Santa Clara de Asís.
I have seen joy in the loving community of the Santa Clara Mission. I have seen people grow in love and knowledge during Mass, prayer, adoration, and Bible studies. I have been guided by inspiring homilies. I have been able to spread God's love in serving the community during Mass. I have felt the comforting touch of my Heavenly Father in desperate times of stress. I have experienced bliss in receiving Jesus in the Eucharist. For this, and for countless reasons untold, I am extremely grateful to Father Serra.
---
Junípero Serra, la Misión de Santa Clara, y Alegria Entre Controversia
Por Maleny Quiroz
Probablemente has oído hablar del Beato Junípero Serra, su próxima canonización y las misiones de California. En caso de que no lo hayas hecho, aquí está un resumen súper rápido.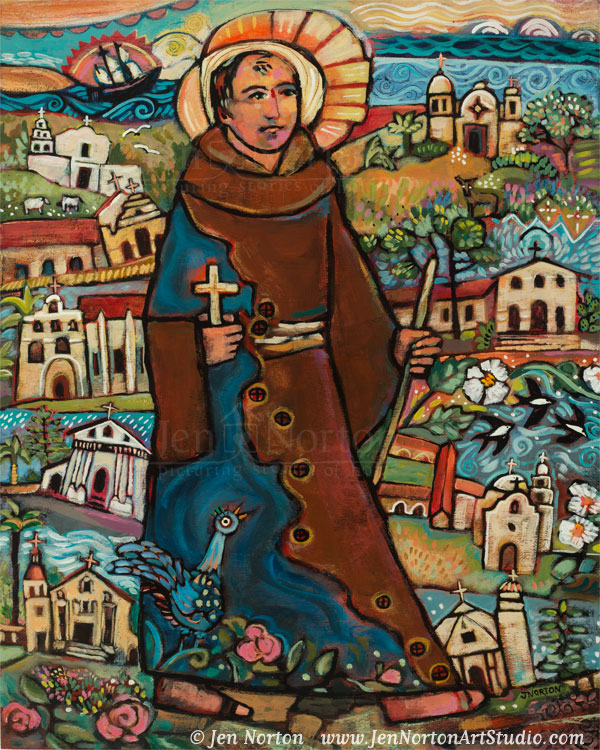 El fray Junípero Serra fue un misionero español en los 1700s que fundó las primeras nueve misiones de California, incluyendo nuestra amada misión en Santa Clara. El Papa Francisco lo canonizará el 23 de septiembre en Washington DC.
Y, ¿de que se trata toda la controversia? ¿Qué a llevado a la gente a que quiera que su estatua en el Capitolio de los EE.UU. sea removida y a que no estén de acuerdo con su canonización? La falta de información. Verás, las personas que tienden a rechazar al fray Serra normalmente lo asocian con la colonización española, el maltrato de los indios y su asesinato en masa. Veamos esto más cuidadosamente antes de hacer suposiciones precipitadas.
La colonización española
Al respecto de la colonización española, tenemos que aprender a hacer la distinción entre los colonizadores y los misioneros. Sí, trabajaron a menudo juntos, pero aun hay una clara diferencia entre ellos, sobre todo cuando estamos hablando del Padre Serra. Como una reacción instantánea se presenta la suposición de que los colonizadores y misioneros españoles llegaron a las Américas a meterles ideas forzosamente en la cabeza de los indios con el fin de quitarles su propia cultura. Déjame te enseño algo: el padre Serra, junto con otros misioneros, aprendió la lengua de los nativos y los apoyo a continuar con su cultura e identidad. El Beato Serra vivió para servir a los indios, no al contrario. Quería esparcir el amor de Dios y los sacramentos a todos sus pueblos, no sólo a los más privilegiados. Tanto era su deseo de hacer esto, que caminó desde la Ciudad de México hasta los EE.UU. para fundar las misiones… mientras que tenía cáncer en la pierna. El Camino Real? Sip, él lo caminó. Y no nos olvidemos de mencionar que "presionó por un sistema de leyes para proteger a los americanos nativos de California contra los abusos de los soldados españoles," lo que me lleva a mi siguiente punto …
El maltrato de los indios
Algunos de prensa contra el hecho de que él utilizó los castigos corporales contra los indios. De nuevo, esto se debe a que la gente tiende a juntar a los colonizadores españoles con los misioneros sin hacer distinción. Según los expertos "no hay documentación que el propio Serra abusó de cualquier nativo americano".
El asesinato en masa de los indios
El asesinato en masa de los americanos nativos ocurrió después de 1850, y el fray Serra murió en 1784 … o sea nada que ver.
Esto no quiere decir que el Beato Junípero Serra fuera perfecto y que por eso debería de ser canonizado. Si tienes algún conocimiento sobre los santos, sabrás que ninguno de ellos era perfecto, y muchos de ellos estaban lejos de serlo. San Pablo fue parte de la persecución de los cristianos, San Ignacio de Loyola era un mujeriego y la lista continúa. La definición de un santo no es "alguien que siempre fue impecablemente sagrado", sino un ser humano que va al Cielo. Eso significa que tenían pecados y faltas, pero que ultimadamente caminaron en los pasos de Cristo. No estoy diciendo que sus errores deben de ser justificados (aunque también es importante tener en cuenta el contexto histórico), pero creo que están allí más para servir como una fuente de inspiración. Los errores de los santos nos ayudan a ver que eran gente normal como nosotros, y que si ellos vencieron el pecado y fueron al cielo, nosotros también podemos hacerlo. Para ser canonizado es necesario que existan dos milagros reales atribuidos a su intercesión, donde años de estudios y sí, incluso la ciencia tienen lugar, para demostrar que están realmente en el Cielo. Hay santos que no reciben su título y ellos son tan santos como los otros que sí lo reciben, pero me gusta mucho como la canonización permite que sean conocidos, para que podamos tener un amiguito de oración en el Cielo ☺.
Yo no viví en los tiempos del fray Serra, por lo que nunca podré decir que soy una de sus testigos y que él es en verdad completamente libre de culpa de lo que muchas personas lo acusan. Sin embargo, sí soy una testigo viviente de lo que ocurre hoy en día en una de las misiones que estableció—la Misión Santa Clara de Asís.
He visto alegría en la comunidad amable de la Misión de Santa Clara. He visto a la gente a crecer en amor y conocimiento dentro de la Misa, la oración, la adoración y estudios bíblicos. He sido guiada por homilías que inspiran. He sido capaz de difundir el amor de Dios en servir a la comunidad durante la Misa. He sentido el toque reconfortante de mi Padre Celestial en tiempos desesperados de estrés. He sentido una gran dicha al recibir a Jesús en la Eucaristía. Por esto y por un sinnúmero de razones que no han sido contadas, estoy extremadamente agradecida con el padre Serra.